The Eye That Watches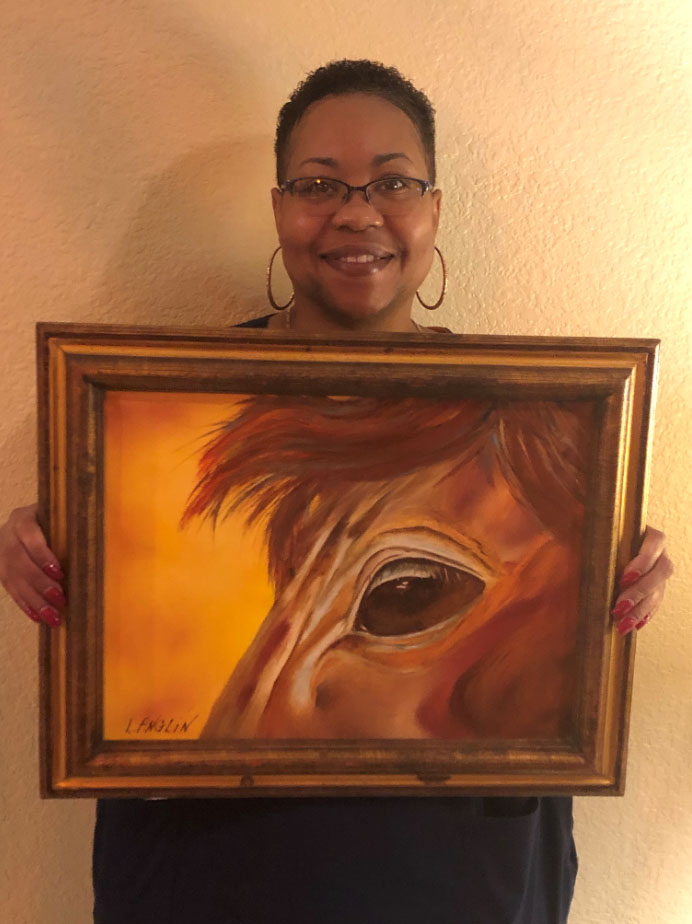 I was working one evening as Mr. Anglin's caregiver and was looking at the artwork on the walls in their home. His wife, Lynn informed me that, this is her artwork and she began to show me more of her work throughout the house. There are some beautiful paintings and one that captured my eye was the wandering eye of the horse and the rich bold colors in the art that just pops. It also has a glow in it. It's like it was looking straight at me, and I was looking straight at it, as if we saw each other. I knew a week later I needed to go back and buy this painting.
Erika
We made the perfect choice…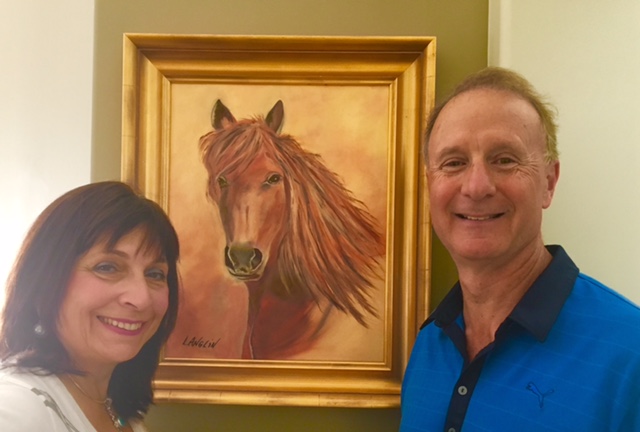 It is my pleasure to share with you that Lynn Anglin has been a personal friend of my family for over 30 years. When I met Lynn she lived in Vancouver, where she held the position of Executive Director of the Canadian Diabetes Association. As much as she loved her work there, in time Lynn fell in love and decided to marry handsome Al Anglin. Thus Lynn moved in 1983 to the Seattle/Medina area, and in 1998 the Anglins moved to their lovely retirement home in Tucson, Arizona. Since moving to Tucson, Lynn has been passionate about her real estate career, as well as rediscovering her creative talent in the Fine Arts.
My husband Randy and I had the opportunity to visit our long-time friends Lynn and Al in their Tucson home in late January 2017. We very much enjoyed their hospitality that entire weekend, yet what impressed us the most was Lynn's artistic and decorative talents. We viewed various venues where Lynn's recent Fine Art was on display including a golf course restaurant, a Western-themed restaurant, and a lovely local artist boutique. We appreciated Lynn's diversity of subject matter, including Architectural Highlights, Collector Cars, Country Collections, plus Desert Flora and Vistas, to name just a few of her painting themes.
Just days before our Tucson visit in late January 2017 Lynn had completed a series of Country paintings which were on display in her Tucson home. Upon viewing them all, we immediately fell in love with the energy of her work named Lucky, an original 16 X 20 inch Oil Painting which featured a handsome horse with a freely flowing mane. There is a humorous story behind how this work of art got named. Apparently, when Lynn had completed this painting she asked her husband, "Al, what do you call a male horse that hasn't been fixed?" In good humour, Al quickly replied, "Lucky!" Loving a good story as most folks do, we purchased Lucky, then carefully brought him home with us to Canada. Soon afterwards, we had the painting professionally framed to enhance Lucky's striking colours, as well as to complement our home decor. We believe we made the perfect choice in choosing and framing our painting. We enjoy Lucky each day where he is featured on a prominent wall in our home in West Kelowna, BC. As things turned out, Lynn and Al were our guests four months later, during the long weekend in May 2017. My husband and I were delighted to reunite Lynn and Lucky, in our BC home over a thousand miles away from the Anglin's Arizona home!
Lynn is passionate about creating and sharing her Fine Art with others – like us, may you also personally enjoy a painting or two, created by Lynn Anglin, that speaks to you.
Sincerely,
Gayle M.
The sun was dazzling off of the leaves of the birch…
I have your painting in my reading room in Tucson. The room is decorated with leather and wood furniture. The colors in your painting remind me of the single day I spent in the hills outside of Ulaan Baator, Mongolia with my girlfriend in 2010. To get there, we took a monstrous truck that could drive through rivers, and we crossed these birch forests in the middle of the day. With the pure, dry air, the sky was dark blue, and the sun was dazzling off of the leaves of the birch.
Larry
Divine Bovine…
This painting brings a smile to my face every morning. The artist has perfectly captured Miss Lillie's serenity and wisdom. I love the rich colors! She is truly a divine bovine!
Terry M.
Beauty, Vibrancy and Color…
As a new resident of Tucson, I was looking for art for our home. I found exactly what we were looking for at a recent art show featuring Lynn Anglin. Her oil paintings bring the beauty, vibrancy and color of the area to life. We look forward to acquiring more of her beautiful work
John T.